Vertu teases the New Signature Touch
By Redactie, Thursday 24 september 2015
The Vertu Signature Touch was the first and only true luxury smartphone. It was elegant, luxurious and sported specs that could even teach a thing or two to the flagship phones of that time. Perhaps that time has come again now as Vertu would be launching the new Signature Touch tomorrow.
Detailed specs are not out but from what Vertu has teased us with the phone would be carrying an even bigger display, at 5.2 inches of sapphire crystal.
The earlier Signature touch had Hasselbald optics along with a Bang & Olufsen sound engine, we are not sure if the collaboration would be continued for this phone, but according to Vertu the new Signature Touch will have unprecedented audio and visual quality. The design will be extremely streamlined and access to the Micro Sim and Micro SD card would be through unique wing gull wing styled flaps at the back.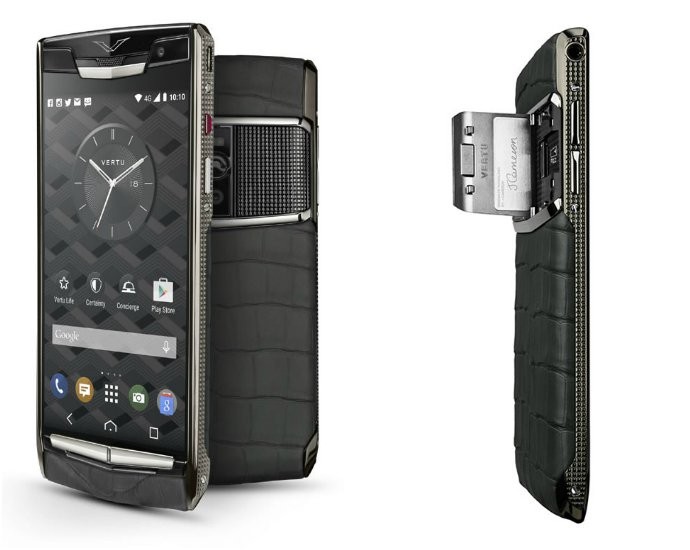 Customers will be able to customize the New Signature Touch with a variety of exotic metals and stones. As always the phone will come with Vertu's renowned concierge service. Stay tuned for the complete details. Interested to try out the phone yourself head to a Vertu boutique at the following dates –
* United Kingdom
Vertu Boutique – Harrods (London): 25 September – 8 October
* France
Vertu Boutique – Royale (Paris): 25 September – 8 October
* Germany
Vertu Boutique – Maximilianstrasse (Munich): 25 September – 8 October
* United States
Vertu Boutique – Madison Avenue (New York): 4 – 18 October
Vertu Boutique – Rodeo Drive (Beverly Hills): 4 – 18 October
* Singapore
Vertu Boutique – Mandarin Gallery: 4 –18 October
Vertu Boutique – Marina Bay Sands: 4 – 18 October
* Russia
Vertu Boutique – Petrovka (Moscow): 17 October – 1 November
Vertu Boutique – Kutuzovsky (Moscow): 17 October – 1 November
Vertu Boutique – Nevsky (St. Petersburg): 17 October – 1 November
* Hong Kong
Vertu Boutique – Central Building: 8 – 22 November
* China
Vertu Boutique – Taikooli (Chengdu): 22 November – 6 December
Vertu Boutique – Plaza 66 (Shanghai): 22 November – 6 December
Vertu Boutique – Shin Kong (Beijing): 22 November – 6 December