The Porsche Mission E green supercar get's a green light
By Redactie, Monday 7 december 2015
Automaker Porsche stunned the world with the Mission E concept car at the Frankfurt motor show earlier this year and is now sending it into production. Shock and awe are sure to ensue…
Turning the showcar into a production model is going to require €1 billion (USD$1.09 billion) in investment, and the hiring of 1000 new employees. But, by keeping the promises made at the Frankfurt show and going ahead with an all-electric sportscar, "We are making a clear statement about the future of the brand. Even in a greatly changing motoring world, Porsche will maintain its front-row position with this fascinating sports car," said Dr. Wolfgang Porsche, Chairman of the Supervisory Board of Porsche AG.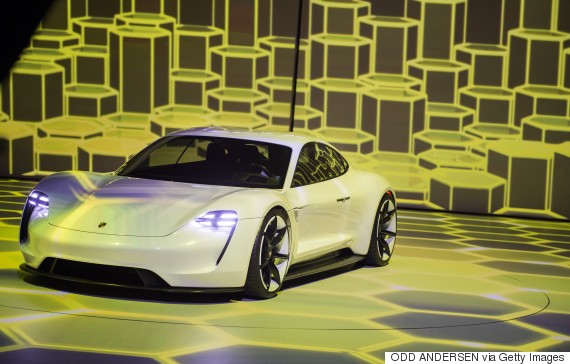 As for when it will be rolling silently, under electric battery-only power into dealerships, Porsche for now is simply saying "the vehicle is to be launched at the end of the decade."
Yet when it does, it will officially bring with it the new chapter in automotive history that so many have been waiting for. The Mission E is a four-door, four-seat sportscar that, like all Porsches, has been designed for everyday use and everyday enjoyment. And like other cars in its existing range it can go from 0-100km/h incredibly quickly – under 3.5 seconds – and offers a lot of horses (660).
But what makes it different from any other current model in the Porsche lineup is that all of this performance will come via lithium ion batteries, rather than a flat six-cylinder or V8 gasoline engine. It is a very bold step and one that will, as Porsche says, go down in automotive history if the company gets it right.
But, if it really can deliver on the company's claims – a driving range of 500km on a single battery charge and just 15 minutes of supercharging to get the battery back up to 80% when flat – the Mission E will be mission accomplished.
"We are resolutely taking on the challenge of electric mobility. Even with solely battery-powered sports cars, Porsche is remaining true to its philosophy and offering our customers the sportiest and technologically most sophisticated model in this market segment," said Chairman of the Porsche Executive Board, Dr. Oliver Blume.